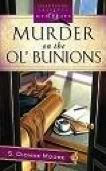 Finally, a sleuthing heroine who hates pantyhose as much as I do! S. Dionne Moore has created a lovable character in her debut cozy mystery, "Murder On The Ol' Bunions".
La Tisha (or Tish) Barnhart is a persnickety woman with empty nest syndrome and an fiesty but lovable husband named Hardy. He's a handful, but he comes in handy when she needs help carrying heavy boxes of books.
Not so handy when discovering a dead body, though! Once the rescue team declares Hardy merely fainted, LaTisha's on the case of who did in her former employer, Marian Peters.
Turns out, Marian wasn't well loved by anyone...including her daughter. But could Valorie have killed her mom? And what's with her new relationship with much older man and cafe owner Mark Hamm? Is he guilty of more than bad cooking?
Salon owner and stylist Regina doesn't have anything nice to say about the deceased...nor the mayor's wife. What do those two have to do with this crime? Could the rumors about Regina possibly be true?
And Peyton changes his wardrobe as often as he changes his tune...so why is he NOT tuning pianos for his clients? Something is desperately out of key with him!
Dana's diary is missing, and it seems Tish might have it...
...what will Dana do to get it back?
Questions abound in this fun and fast paced cozy! Fortunately, LaTisha won't stop until she gets her answers...even for her soon to be first born grandchild!
With mouthwatering cooking simmering on the stove and mind blowing riddles simmering in her brain, Tish is a heroine for any woman who's anti-hosiery!
I'm giving "Murder On The Ol' Bunions" four out of five bookmarks, with an orthopedic shoe as a charm...LaTisha won't wear it, so it's brand spankin' new!
Happy Reading!
Deena