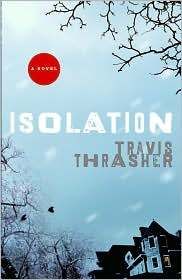 Travis Thrasher has come a long way since his debut novel, "The Promise Remains". In his newest release, shades of Stephen King color this haunting novel of a missionary family on the verge of losing everything.
"Isolation" tells the story of Jim and Stephanie Miller and their two children, Zachary and Ashley. Home on furlough from their mission stint in Papau New Guinea, both are suffering from burn out and fatigue.
But it seems that Stephanie may be suffering from something far worse. Dreams, night terrors and sleepwalking are just a few of the things she's been doing lately. When Jim awakes to find the horror in son Zach's room, he knows he must get his family away to recover, and quickly.
Their escape? A huge log cabin built in the mountains of North Carolina. A refuge for missionary families, the house holds its own haunting past. Has Jim taken his family from bad to even worse?
Another couple shares the home with them, and soon even they begin experiencing the terror that seems to have followed the Millers back from Papau New Guinea. Who else is in that house? Where is God when they need Him most?
Will the faith the Millers have in God sustain them through anything? Or is it built on false hopes and shaky beliefs? When the evil comes, how will they survive? And who is their enemy?
This most definitely isn't for any member of the "Big Honkin' Chickens Club". I'm a huge fan of Robert Liparulo and Ted Dekker, and my heart was racing like mad as I turned the final page.
Never has a novel left me so shaken and disturbed. God Himself has been teaching me and my husband that it is never us, but always Him. I'm so thankful we didn't have to learn it the way the Millers did.
Pick up "Isolation" carefully in September 2008 from FaithWords. And don't be expecting another romance from Travis any time soon. His next book is titled "Ghost"...and Patrick Swayze ain't in it!!
I'm giving "Isolation" a shaky four out five bookmarks...with a huge flashlight (all the better to bean you with, my dear) as a charm. Travis left one thread dangling, and it's bugging me...kept him from the full five award.
Happy (and creepy) reading!
Deena