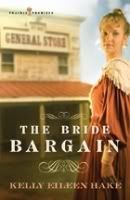 I haven't laughed so much while reading in a long time! Kelly Eileen Hake's debut novel is fun, fun, FUN! I can't wait until she writes another book...put me down for a copy:-)
Clara Field and her Aunt Doreen struggle to keep up with the wagon train as they travel to the Oregon territory. But their wayward ox, Simon(!) has a mind of his own, and his antics have them left behind to fend for themselves.
Fortunately, the two women tumble into the tiny town of Buttonwood and the kindness of general store owner Josiah Reed. Realizing the women are in desperate straights, he offers them room and board in exchange for cleaning, cooking, and helping in the store.
When he strikes a deal with Clara to help find his physician son, Saul, a wife in Buttonwood, "The Bride Bargain" is set to begin. If Clara can match Dr. Reed up, the house is hers and she won't ever have to struggle to care for her aunt again!
Meanwhile, in Baltimore, Dr. Saul Reed struggles to establish his practice. Unsanitary conditions and obstinacy block his abilities to give medical aid to the people who seem to need it most.
When Dr. Reed meets up with a waif named Midge, his attentions are consumed by saving her from a life of prostitution and abuse. Only by taking her to Buttonwood and away from the clutches of the man who "owns" her can he truly protect her.
But his move is temporary. Or, is it? How will the bride bargain turn out?
This hilarious reading romp had me in stitches! Clara is adorable and stubborn as all get out, the women of Buttonwood are fine friends to have, and Dr. Reed has met his match in Midge and Clara!
My only complaint is the abrupt ending. Felt like a door had been slammed in my face after I'd stayed to long to visit:-) But I'm eager for more from Kelly Eileen Hake after this one!
I'm giving "The Bride Bargain" four out of five bookmarks, with an apple as a charm. Don't miss this fun reading experience!
Happy Reading!
Deena