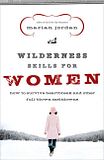 I first introduced you to Marian Jordan in my review of her book "Sex and the City Uncovered". She is a talented young writer with a heart for women, and her Redeemed Girl Ministries is a valuable resource I encourage you to check out.
In "Wilderness Skills for Women", Marian takes the stories of Joshua, Moses, the children of Israel, as well as many others, and makes a modern day application that might surprise you.
As I began reading her retelling of Joshua's history, I thought "Well, nothing I haven't heard before". And then...BAM! She threw a new perspective at me that had my full attention and devouring this book (what? You didn't really think I was going to tell you what it was, did you??).
Marian describes her own wilderness experience in "The Full-Blown Meltdown", then continues on the diagnose what a wilderness experience might look like in your life. Using characters from well known Scripture passages, she pulls out nuggets that are like precious gems to those who are struggling to find their way through life's hard moments.
In the second half of the book, Marian lays out four of her "wilderness skills", such as 'Drink Plenty of Water', 'Seek Shelter', and 'Beware of Snakes'. My personal favorite was 'Don't Eat the Red Berries'.
She closes with a summary of the main points and suggested passages of Scripture for you to read and meditate on. Including small group questions, this is an excellent book for a group study or for a personal devotional time as well.
I'm giving "Wilderness Skills for Women" five out of five bookmarks, with a survival kit as a charm. Thank you, Miriam, for not letting your life experiences go to waste, but instead for sharing them to help others.
Happy Reading!
Deena