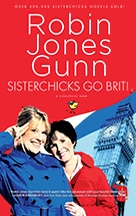 One of the things I love about Robin's "Sisterchicks" series is traveling all over the world, without ever leaving my home! Of course, she writes so vividly that I find myself wishing for her adventures in my own life:-)
In her latest installment in this dynamic series, Kellie and Liz are two life long friends who go "Brit", courtesy of a sweet little lady named Opal.
Both women have heartfelt dreams that have never been fulfilled: Kellie longs to be a profession interior designer, and Liz has had a crush on Big Ben since the age of 15.
When a chance meeting with Opal at their favorite coffee shop, Brew-La-La (don't you just love it!) leads to an opportunity to design her new home interior, Kellie begins to dream again of her own business. But it's their surprise payment that gives Liz's long held dream wings...they're going to England!
The friends' best laid plans go quickly awry, and it isn't long before they are just going with the ebb and flo of the trip (that scene is a hoot and a half as well!). From an impromptu tour of Lewis and Tolkien stomping grounds to a hot air balloon excursion over the Cotswolds, Kellie and Liz are on the adventure of a lifetime.
Filled with fun, scenery, and laced with the presence of God Himself, "Sisterchicks Go Brit" is a wonderful addition to my "Sisterchicks" library. Robin has me dreaming of my own 'one day' sisterchick adventure!
I'm giving "Sisterchicks Go Brit" four out of five bookmarks, with a double decker red bus charm as a snappy addition. My all-time favorite adventure still is "Down Under", but each new book rivals that one for the top spot! Don't miss a "Sisterchick" moment!
Happy Reading!
Deena