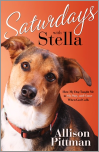 I just finished reading one of the most enjoyable books I've read all year! Allison Pittman's story of her precious pooch is fun, lighthearted and just...well, fun!]
"Saturdays With Stella" chronicles Allison's journey through dog obedience training with her new pooch, Stella. You can tell Allison is a creative and gifted author by the way she describes each dog in the class with Stella, giving them fitting personalities and imaginary dialogue.
Stella is a 'mis'obedient dog--she missed the section on obedience when God created her! But she's so lovable and adorable, Allison can't give her up. Out of desperation, she enrolls the two of them into a six week Saturday obedience training course at the local pet store.
As Allison and Stella travel their journey through "Sit", "Stay", "Wait", etc., Allison learns a few spiritual lessons for herself. She nicely ties Stella's obedience training into our obedience training as we walk with God.
With fitting use of Scripture and real life examples, Allison had me alternately chuckling and sighing in recognition of the life lessons she portrays through her story about Stella.
Laced with wit and humor, "Saturdays With Stella" is perfect for the dog lover, but has an appeal for any reader. Allison's personality shines through the pages, and you get to know Stella as if she's your own puppy. The tale of the mud catcher mat is worth reading the book, in my humble opinion!
I'm giving "Saturdays With Stella" five out of five bookmarks, with a collar and leash as a charm. Honestly, I haven't had this much fun reading a book in a long, long time! Watch for Stella in bookstores this August!!
Happy Reading!
Deena