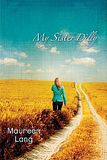 Maureen Lang is a gifted writer who creates characters that are so alive you could sit and have a cup of coffee and a chat over life issues and hurts that we all carry. But her most recent novel is a multi-faceted diamond.
Hannah Williams wants to be there for her younger sister, Dilly. She wasn't there when Dilly needed her most, and that caused Dilly to make some life altering decisions that cost her dearly.
Scrimping and saving every available penny from her lucrative investments position, Hannah moves back to her 'not so beloved' hometown of Sugar Creek, Illinois to help Dilly in her new life.
Problem is, does Dilly want her help? Has Hannah, in her big sister mode, overstepped her boundaries? Dilly is no longer the same person, and she's learned to rely on God for her needs.
Hannah still doesn't trust God for anything except judgment. The faith of her parents has soured her on anything to do with God, church, or trust. But will Dilly's newfound faith lead Hannah to her own? Can the younger lead the older?
And where does Mac fit into this picture? This is truly a 'dilly' of a story (sorry, I couldn't resist!).
Both heartbreaking and heartwarming, you'll thoroughly enjoy meeting Hannah and Dilly...the story of Dilly's name is so wonderful! I'm giving "My Sister Dilly" five out of five bookmarks, with a little piglet as a charm.
"My Sister Dilly" releases from Tyndale October 2008...put it on your wishlist today!
Happy Reading!
Deena