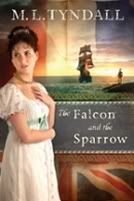 If you're a frequent reader of my reviews, you've heard me say this time and time again...but it bears repeating...
Of all the genres of fiction, both Christian and non-Christian, the one I dislike the most is historical. When it comes to historical novels, I put them at the bottom of the "gotta read it for the blog" pile, and grit my teeth as I open the cover.
Having said that...I absolutely ADORED this book! Devoured it in ONE DAY! Amazing, isn't it??
M.L. Tyndall is a writer with flair...and I don't mean her choice of pen! She can turn a phrase on a dime, and with a single sentence bring a character to full, three dimensional life.
When Dominique Dawson steps off the ship onto the land of England, you see what she sees, smell what she smells, and feel what she feels. Jostled and bumped right along with this timid woman, you'll travel with her to the townhouse where she will become a governess in disguise.
You'll then see her through the eyes of Admiral Chase Randal--a man who has suffered great loss and has closed his heart off to all...including his young son. You will feel his astonishment as he realizes his overwhelming feelings toward Miss Dawson...feelings he cannot seem to grasp.
The coarse jesting of the supposed high class of England will grate on your ears, and you too will burn with embarrassment as Dominique does. And as she desperately struggles with her faith, you might find yourself praying for her to find her way...forgetting one very important fact...
...SHE'S NOT REAL!!
That's how wonderfully written "The Falcon and the Sparrow" is written. If you love historical fiction, you'll be enraptured. If you're like me, and you don't care for it, you'll be pleasantly surprised.
I'm giving "The Falcon and the Sparrow" five out of five bookmarks with a roll of parchment as a charm, and don't be surprised to find a review of M.L. Tyndall's NEXT book on my blog!
Happy Reading!
Deena