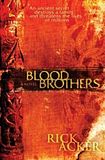 I love so many things about being a reviewer, but I think my favorite is the nudge to read books I might not normally choose to read. Sometimes I stumble across a new author that I absolutely fall in love with...and that has happened with Rick Acker.
"Blood Brothers" is the high octane sequel to Rick's first novel (which I missed...and I'm KICKIN' myself for it!), "Dead Man's Rule". Brothers Karl and Gunnar Bjornsen are in a court battle for the pharmaceutical company they founded, owned and ran together until Karl pushed his brother out.
Gunnar has the formula for the next greatest discovery of their company, and he won't give it up. Karl sues him for the formula, and Gunnar quickly hires Ben Corbin to countersue and defend him in court. Gunnar accuses Karl of mismanagement and embezzlement...and both are nearly impossible to prove.
Company trade secrets aren't the only thing going on in this suspenseful legal thriller. What does Bjornsen Pharmaceuticals want to hide about its new miracle drug? Who's the real legal mastermind, and what will this huge case do to Ben and Noelle's relationship?
When things quickly become too personal, Ben turns up the heat on Karl. What will Karl do to retaliate? And who is the middle man who seems to be playing both sides?
Questions that deserve answers, and they unfold beautifully in this gripping story. Rick Acker joins the league of Randy Singer, Robert Whitlow and Craig Parshall with intense and realistic courtroom drama. He's now on my favorites list, and I can't wait to get my hands on the first novel!
I'm giving "Blood Brothers" five out of five bookmarks, with a tiny pill bottle as a charm. This book will make you wonder about those huge prescription factories and what really goes on behind the scenes:-) Bwahahahahahahahahahaha!!!!
Happy Reading!
Deena