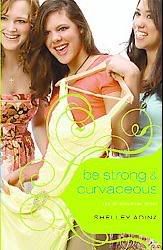 I'm SO excited to watch the explosion of top quality YA Christian fiction! If I was forced to pick my top five authors to watch, Shelley Adina would most definitely make her way onto that list:-)
"Be Strong and Curvaceous" is the third installment in the "All About Us" YA series, and it's an explosive storyline. Meet Carolina Isabella Aragon Velasquez...but you can call her Carly!
She's part of a trio of friends attending Spencer Academy, a high end prep school reminiscient of Nickolodeon's "Zoey 101". On a full ride scholarship, Carly has always felt she has something to prove her worth, not wanting anyone to know she's a scholarship kid.
With her talent for fashion design, the Design Your Dreams charity event at their school is perfect for her! Problem is...how can she get her hands on enough quality fabric to custom design a dress sure to wow her peers and the fashion industry?
Secretly obtaining a job, it seems as if everything in Carly's life is secret these days...except her newfound faith in Christ. Her salvation now colors all she does, but it isn't easy figuring out how to live for Him. Thank goodness for great friends like Lissa and Gillian!
But when Carly's new roommate gets emails that have her spooked, can Carly respect Mac's privacy and keep this to herself? Or should she follow God's lead and ignore her new and tenuous friendship with Lady MacPhail (aka "Mac")?
Shelley's books are some of the most exciting and realistic teen fiction I've come across, and that's saying something, considering the setting her books take place in--I mean, how many of today's teen girls attend such prestigious prep schools??
That aside, the scenarios are exciting and filled with a message of standing for your faith, living it out daily, and not going with the crowd. Be cautioned: these stories are most definitely for mature teens. They aren't graphic, but can be disturbing for the really young girls who are still innocent and sheltered (keep them that way as long as possible, Mom and Dad!).
I'm giving "Be Strong and Curvaceous" an enthusiastic five out of five bookmarks, and adding a bolt of high end fabric as a charm. And for those who find this book a little "out there", don't miss Shelley's beginning note sharing how this story was inspired by true life events!
"Be Strong and Curvaceous" releases from Faith Words in January 2009!! And will be followed by a fourth novel...YAY!!
Happy Reading!
Deena