Hi all!

I'm a bit swamped right now with doctor appointments and getting ready to go back to work (BOOO!!), but all that will be changing soon...hopefully!

As a treat, I'm allowing a new blogging buddy to tell you about a book I've received, but have not quite pulled from the towering pile of reading material I have stacked on my shelf.

Please note that, while I endorse the blogger (else, he would not be here), I myself cannot endorse the book until I've read it. But I'm feeling pretty good about this one, so I'm stickin' my neck out to see how this will work!

If you'd like to guest blog (i.e., help out an overwhelmed reader:-), email me a post and I'll take a peek at it.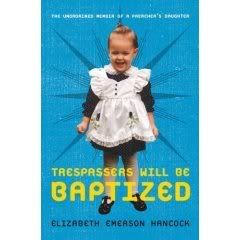 Until then, I present to you my buddy Adam Wilson from
Letters On Pages
and his review of "
Trespassers Will Be Baptized
".
Be watching for my own review soon (I hope!).
Happy Reading!
Deena