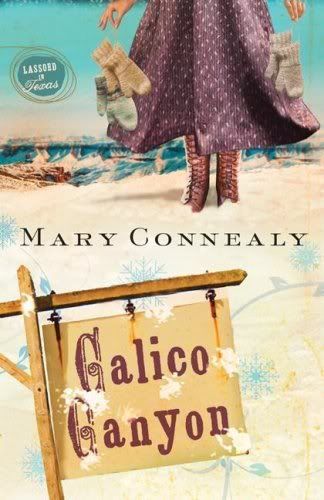 Mary Connealy's books are a hoot and a holler funny, filled with heart and just plain, great reading! I fell in love with her when I read "
Petticoat Ranch
"...and her newest release just has me lovin' her even more!
"Calico Canyon" kicks off with such witty humor...as Grace Calhoun, schoolmarm in Mosqueros, Texas, labels the five Reeves boys as the 'five horsemen of the Apocalypse'. Give you a clue, anyone??
And I'm sure you've heard of pre-arranged marriages if you've ever read a western romance...but what about 'un-arranged' marriages?? That's what Daniel Reeves ends up with when prissy Miss Calhoun stows away in his wagon one freezing night.
Grace feels as if God's abandoned her, and ending up dependent on Daniel's good will is just more proof. But she has to stay hidden. She just can't tell him why.
The boys keep wanting Pa to return that there Ma he went and got. She don't seem to be good for nuthin'. Until a tragedy strikes, forcing Grace out of her self-imposed shell and revealing who she truly is to her family of six (all males to her one female, by the way!).
Mary has you rolling with laughter on one page and filling up with tears on the next. Written with genuine voice and a unique style, you'll be delighted by this series of old west stories. Strong heroines, even stronger heroes, and always lots of laughter...that's a Mary Connealy story for you!
I'm giving "Calico Canyon" five out of five bookmarks, with a biscuit as a charm. AND I'm voting it "Best Western Romance of 2008! I can't wait for her next release, "Gingham Mountain"...already know it's a good'un!!
Happy Reading!
Deena