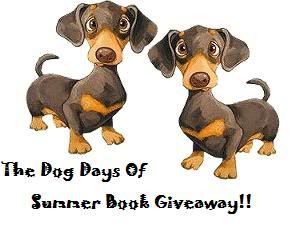 Hey, I don't care what the calendar says...when my kids are done with school, IT'S SUMMERTIME, baby!!
And that means it's time for "The Dog Days of Summer Reviews and Book Giveaways!!
Beginning Friday, June 6th, I'll be giving away a BOOK A WEEK! Yup, you read that right...
All you'll have to do is leave me a comment on the "Dog Post", and I'll draw a winner the following week, and post another giveaway.
And I'm doing this ALL SUMMER LONG!!
Once in awhile, I may "Double Dog Give"...or even "TRIPLE Dog Give"...so you've GOT to stay tuned in.
Check out my contest rules in my title bar...and you MUST leave an email address, or I won't be able to count your entry in the drawing.
NOW, if you post a link to my contest (this post or any of the giveaway posts) and leave me a comment with your link HERE....you can be entered to win:
1) a five dollar Starbucks card
2) a ten dollar Amazon gift certificate
3) a book of YOUR choice from the HUNDREDS I've reviewed!
I'm drawing THAT winner on September 1st...so you have TONS of time to enter, spread the word, and win some cool stuff for SUMMER.
That's the deal...hope you'll enter often, and help SPREAD THE WORD!!!
Happy Reading!
Deena