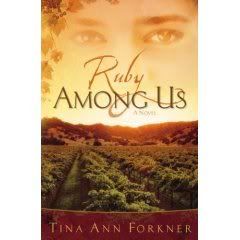 With an amazing debut novel, Tina Ann Forkner is an author to watch for. Her characters come to life and hold a place in your heart long after the book is done, and her story holds a powerful message of regret, hidden secrets, redemption and forgiveness.
"Ruby Among Us" tells the story of three DiCamillo women: Kitty, Ruby, and Lucy--three generations of secrets, struggles, and longing to know who they all really were.
The story opens with Ruby's untimely death and Lucy's guilt over her believed part in it. Kitty, Lucy's grandmother, takes her place in Lucy's life as guardian, becoming both grandmother and mother to the young girl.
Lucy grows up in a very sheltered life--homeschooled, trained in the arts, and never really having any interaction with the 'outside world'. All she has is her grandmother, her Kitty. And she's content with that for the most part.
Until the day she turns 19 and is in line for a post-graduate position, on the cusp of a new life, with new friends and a potential love interest. It's then that Lucy feels the need to finally know who she really is, where she comes from, and who her mother--whom she is rapidly forgetting--really was.
Kitty brings forth painful memories long kept hidden, in bits and pieces as she can stand the pain of regret, remorse, and shame. What unfolds is a gorgeous tapestry of wrong choices, hidden secrets, and lost moments all woven in with the power of forgiveness, redemption, and restoration.
You cannot read "Ruby Among Us" from page one and not end up changed by page 313...you just can't. This is a powerful novel that takes part over three generations, with the 'curse' being broken in the third.
Generational curses haunt a lot of today's families...I know they do mine. I have allowed God to work in my life to break those patterns that have been ingrained in the women in my family, and I see that at work in Tina Forkner's novel. This is powerful writing from a very talented new author.
So, I'm giving "Ruby Among Us" a five out of five with a photo album as a charm...pictures are sometimes the keys to unlock the past for us in ways we cannot imagine.
To learn more about this amazing debut and the author, click
here
.
I'm also hosting my first giveaway in a VERY LONG TIME (post surgery stuff, you know....), but if you'd like a chance to win a copy of "Ruby Among Us" leave me a comment and tell me your birthstone, and I'll draw a winner next Friday!!
Happy Reading!
Deena