Meet author D.C. Stewart, a new friend and author of tween mystery "Where Would Cows Hide"!
D.C. Stewart
grew up in a small town in Oklahoma, and spent most of her childhood getting into trouble with her younger brother on their ranch. She began writing short stories in high school, and won a writing competition at a nearby college at age 17. After graduating, she attended Northwestern Oklahoma State University and earned a degree in History, and also met her husband, Scott. She worked for a church in Maumelle, Arkansas as the Communications Coordinator for five years. After moving back to Oklahoma, she chose to stay home with their four year old twin boys, and six month old baby girl, and to pursue her dream of being a full-time writer. The Stewart's live in Oklahoma City, Oklahoma. Where Would Cows Hide? is her first novel.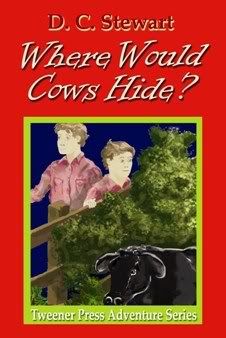 About The Book: While their parents are on vacation in Hawaii, eleven year old twins Brad and Charlie Parker and their little sister Zoey arrive at their grandparents ranch in Oklahoma to discover nothing is as it should be.
Grandpa and Grandma's cattle are disappearing; mysterious strangers are lurking around the ranch; the strange lady at church seems to know their every move; not to mention a psychic, lazy dog and a weird little sister that keeps getting in their way.
How will these twin troublemakers unravel this mystery and find out where cows would hide? This is a fun and energetic debut novel that will be enjoyable for mystery lovers in the tween years. Zoey is adorable, and pretty much only has to exist to drive her twin brothers nuts!
Brad and Charlie are mischief makers who don't have to look far to find something to get into. And with just enough suspense to keep the pages turning, I think D.C. has created a winning story!
My only complaint is the cover art. But what are you going to do about that? It doesn't make the book very appealing, so don't let the cover fool you...this is quality writing! I'm giving "Where Would Cows Hide" four out of five bookmarks, with a cowbell as a charm.
Now, I plan on having my 14 year old son read this one and give HIS opinion, so be watching for his thoughts! In the meantime:

Happy Reading!
Deena
P.S. Want to win a copy? You've got three different ways to win:
WAYS TO WIN
Author D.C. Stewart is giving you a chance to win a copy of WHERE WOULD COWS HIDE?, and more! Here's how to enter for a copy of WWCH and to enter the grand prize drawing:
1) leave a comment on this blog post (or on any of the blogs participating in the blog tour);
2) email the contest coordinator at contest@novelinspirations.com with subject line "WWCH ENTRY";
3) join D.C. Stewart's ezine list by either sending a blank email to: dcstewart_ezine-subscribe@yahoogroups.com or visiting http://groups.yahoo.com/group/dcstewart_ezine/ and subscribing through the yahoogroups page.
Book winners and the GRAND PRIZE WINNER will be drawn on or before May 31st, 2008 and will be notified by email. Please make sure you leave a valid email address on applicable blog posts.