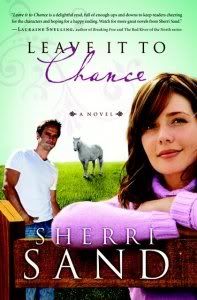 With such a stunning debut novel, I can't wait to see what she has next for us! Sherri Sand's debut novel is like a movie for your mind! Radiant with heart and filled with characters that have depth and soul, "Leave It To Chance" is top quality fiction.
Sierra Montgomery is newly divorced, raising three children alone, and suddenly unemployed. She's long turned her face against God due to the death of her father, the death of her marriage, and the struggles she now faces...alone.
When life seems to keep going from bad to worse, she's finally forced to accept help from her overbearing mom and supportive best friend. But accepting a horse? No way, no how.
Scarred by a tragic accident that she witnessed with her best friend from childhood, Sherri is desperately afraid of the four legged beasts. One problem...she stands alone in her rejection of Chance, the old grey horse.
Can taking "Chance" save her from losing her children? Can this one unusual gift turn Sierra's life around? And what will she do with her growing attraction for her horse's landlord?
Ross Montgomery never could do anything to please his dad. He loves pouring his heart and soul into landscaping, but his most recent client is more than he can bear. Still, promises of lucrative contracts have him digging deep for more creativity, patience, and time.
Then along come Sierra and her three kids! With their horse and his meddling next door neighbor, does Ross stand a chance? Can he risk it all on a family he can't have?
I'm serious when I tell you this read like a movie for the mind. I found myself casting characters as I read, and I was highly impressed with Sherri's style of storytelling.
I'm giving "Leave It To Chance" five out of five bookmarks, the highest I think ever for a debut novelist here at My Bookshelf, with a curry comb as a charm. This is wonderful summertime reading, and I'm eager for another novel from this new author!
Happy Reading!
Deena