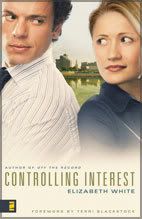 If you want a novel with romance, suspense, action, and humor...all you have to do is pick up a novel by Elizabeth White! A talented author, Elizabeth knows how to write 'em so you'll keep turning the pages.
In her soon to be released new title, "Controlling Interest", we have the best of the best...and I didn't think Elizabeth's writing could get any better! This one had me chuckling in every chapter, and laughing out loud at surprising moments.
Matt Hogan owns a struggling detective agency. He's finally found his faith in God and is slowly working out what faith looks like in his life. So, when Eddie Tubberville offers him financial support to help his agency survive, this seems like an answer to prayer, right?
Well, except old Eddie has a few strings attached he forgot to mention. Namely, his daughter and budding detective, Natalie Tubberville (don't you just LOVE that name?!)! Seems that Natalie is going to work on Matt's first big case with him, earning herself 25 percent partnership, via Daddy's shares.
Two problems: 1) Matt works alone; 2) Natalie's an adorable blond headed Lucy Ricardo! She has a knack for getting them into the most awkward situations, which both frustrates and attracts Matt. Problem there as well--because of his checkered past, he's sworn off women as a vow to God.
So why in the world did she have to be so adorably inept?? But don't let the blond fool you! While she does have a nose for getting into trouble, she also has a heart as big as the state of Texas, and that attracts people and gets her information no one else can get.
Can these two unlikely partners find the oil baron's vanished princess daughter? Why in the world would she run from her pre-arranged marriage? And who is Jarrar Haq and why is the NCIS interested in him?
Questions and mystery abound in this hilarious romantic comedy. I adore Elizabeth White and her novels always are such a treat! I'm giving "Controlling Interest" the full five out of five bookmarks, with an old fashioned dial up phone--you'll see why when this novel releases from Zondervan in June 2008!
Happy Reading!
Deena