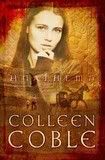 I've been a fan of Colleen Coble's from the very beginning and adore her fiction, but nothing has captivated me like her newest release!
"Anathema" takes place in Amish country (I know, I know...but this is DIFFERENT Amish fiction:-) and tells the story of Hannah Schwartz. Hannah was never really tempted during her 'rumspringa'--time of freedom from the Amish life. She was Amish through and through.
She had no difficulty making her pledge to the faith and being baptized. It was then that temptation came her way in the shape of a deputy named Reece. Forbidden love calls to her, but the night her parents are murdered it finally carries her away from all she has ever known.
Then Hannah learns that people are not always as they seem.
Flash forward five years later...Hannah has made a new life for herself, creating quilts and producing books about the Amish life. She is a hit in the publishing industry and a hot property in modern media. But she still feels unsettled in the modern world.
So, when the world of the Amish beckons through the hand of mystery and questions unanswered from both fateful nights, Hannah returns to get to the bottom of all of the whys in her life.
Will Hannah finally return to her old ways, or remain in her modern lifestyle? Or is she destined to feel caught between two worlds? Does Deputy Matt Beitler hold the key to the biggest question in Hannah's life...or will the ones who took her parents take her life as well?
Colleen has perfectly 'cobbled' (did you like that? I did!) together the Amish life with a mystery that had me reading from early morning until the late hours of the evening. I fell in love with Hannah's family and remained one step behind Colleen's breadcrumb trail of clues throughout the entire book.
Cleverly woven, this is by far Colleen's best writing ever! I'm giving "Anathema" my over the top rating of six out of five bookmarks with a tiny quilt square as a charm. If all Amish tales were this wonderful...well, I might become a fan:-)
Happy Reading!
Deena