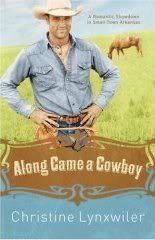 Remember that old song lyric: "Mamas, don't let your babies grow up to be cowboys"? Thank goodness some mamas don't listen, 'cause the cowboys make for some goo-ood readin'!
Rachel Donovan made a life altering decision at seventeen that has haunted her for fifteen years, causing her to avoid the spotlight at every turn. But as the most beloved town doctor--chiropractor, to be specific--it's natural that she be asked to be a part of the Shady Grove Centennial Rodeo Committee.
What isn't natural is how Rachel deals with being in close contact with Jack Westwood, cowboy and producer of the town rodeo. They've known each other for years...and she can't help but wonder if he knows about that night so many years ago.
Secrets from the past can't stay hidden for long, and Rachel's come a callin'--how will she answer? Can relationships damaged be mended, or is the damage too much? And can Rachel ever trust herself to love anyone--even a cowboy?
This sequel to "Promise Me Always" is fun and again filled with characters you can't help but love! Move me to Shady Grove and let me join in the Pinky Promise Sisterhood, because these are some girlfriends who most definitely have your back in prayer!
I'm giving "Along Came A Cowboy" four out of five bookmarks, with a cowboy hat as a charm...naturally:-)
Happy Reading!
Deena