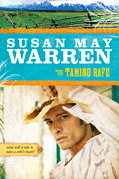 Susan May Warren has a way with romance that goes deeper than merely 'I love you'...it goes all the way to 'I know you'. And there's nothing more romantic than being known.
In "Taming Rafe", that's really all Rafe Noble has wanted all his life. To be known for something. Bull riding is what he's known for, and he's the best. But when tragedy strikes too close to home, are Rafe's riding days over? And if so, what will become of him?
Katherine Breckenridge is a woman who longs to be known, just as her mother was before she died. Fundraising for Mercy Doctors is all she longs to do, but money disappears, donors dry up, and she can't shake the stress-induced migraines. When Rafe literally crashes her party, it's all Katherine can do to not fall completely apart.
A spur of the moment trip to the Noble family ranch is her only hope...she tried to guilt the money out of Rafe...now can she charm it out of him? In the end, can both Kat and Rafe know the One who knows them best, and let Him work through them for a change?
Interwoven within this story is another tale, just as moving and just as inspiring...and it all centers around a book. Talk about a complicated plot line! But Susan handles it with heart and with style, and creates a novel that has you laughing in one paragraph and your eyes welling with tears in the next.
Each word is so carefully crafted, and the places those words lead you to are deep within your own heart of hearts. We all long to be known, and to be known for something. Let Rafe, Kat, and Susan show you how to do just that.
I'm giving "Taming Rafe" six out of five bookmarks, with a set of spurs as a charm...I know it drives people crazy when I go over five bookmarks...but this book is Just. That. Good.
"Reclaiming Nick" is the first in the Noble Legacy series...don't miss his story...and then join me in waiting for "Finding Stephanie", coming soon (actually, she's waiting for me on my bookshelf...but telling you that would be SO mean!).
Happy Reading!
Deena