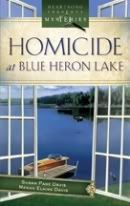 Another good read from Heartsong Presents Mysteries! This is a first novel by a mother/daughter duo with a name you'll most likely recognize (remember Susan Page Davis from "Frasier Island" and "Finding Marie"?). They make a great writing team!
Emily Gray has finally returned home. Having left immediately after high school, Emily went to college and has made a name for herself in the news industry. But her step-father has passed away and her mom needs help sprucing up the old cabin and getting it ready for selling.
Nate Holman never really left Baxter, Maine. He did start on a college career, but his own father's death brought him back home to run the family store, and he has been there ever since. And he's never forgotten the night he first kissed Emily Grant...so he's VERY glad to see her back in Baxter!
With the spark of new romance in the air, things quickly turn sour as the two discover a body. Henry Derbin, a long time island resident, is found dead in his home, a blow to the head the cause. Who would want to kill Mr. Derbin?
Could it be one of the many land groups wanting to buy his extensive property? Or could it be the person responsible for the SECOND body Emily finds, buried on Mr. Derbin's property?
Amidst the drama and the investigation, will the spark that ignited so long ago between Nate and Emily flourish, or be extinguished by their very different lives?
Only one way to find out...and that's read the book for yourself! This one didn't move quite as quickly as others I've read by Susan, but it was very satisfying, and I'm looking forward to more books by this mother/daughter duo!
I'm giving "Homicide at Blue Heron Lake" four out of five bookmarks, with a class ring as a charm. If you haven't signed up for Heartsong Presents Mysteries...what are you waiting for??
Happy Reading!
Deena