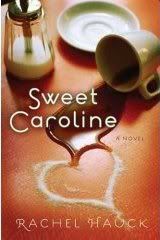 I never would have believed it possible, but Rachel Hauck's writing has done an Emeril---Bam! With "Sweet Caroline", she's really cranked it up a notch or two! And lowcountry living never tasted--or READ--better!
Caroline Sweeney is a rare woman. One of the few of the old high school gang to remain in Beaufort, South Carolina, she's pretty much given up her dreams to help others. First, it was her daddy...then, it was Mrs. Farnsworth...and finally, Jones McDermott.
The day she went to work at the Frogmore Cafe, Caroline felt the door close on her dreams. But it was her choice, and one she didn't regret.
Much.
So, when Jones passes away and the cafe might be closing, possibilities begin to brew for her again....
Until the will is finally read.
What in the world is a 28 year old who still lives at home with Daddy going to do with a run-down lowcountry cafe?
With her business life in a financial quagmire, her love life steamed up by the high school Lothario, now reformed (or is he?), and her home life changing as her dad remarries...what else can happen to sweet Caroline?
Um...maybe the return of her one true love, Mitch O'Neal, home from Nashville and riding high on his musical success? For someone who stayed put, life sure is interesting for Caroline Sweeney!
The Frogmore Cafe is delightful, the characters a hoot, and the menu...well, that just was NOT fair, Rachel! I expected recipes after reading all of those opening chapter menus! And how could you keep wafting Bubba's Buttery Biscuits at me and not give me a chance to create, to taste...!
Full of heart and packed with laughter, "Sweet Caroline" is just right...not too sweet, not too sappy. Watch out for twists and turns, and a few unexpected events:-)
Rachel Hauck has out-written herself with this one...and I'm thrilled to know that Elle gets her own story soon ("Love Begins with Elle" is the title I've seen as I've lurked at Christianbook.com and Amazon.com!).
I'm giving "Sweet Caroline" six out of five bookmarks, with a paddle as a charm...you will NEVER guess why, until you're in the middle of the story...now, THAT should be incentive to get out there and get a copy!
Happy Reading!
Deena