Lately, my life seems like one uphill battle after another. For those who don't know, I'm having surgery in the next few weeks, and awaiting another diagnosis on Friday. Health issues are enough...but when other trials strike...it can be overwhelming, can't it? Well, let me share something with you God brought my way...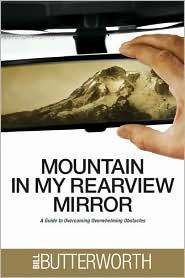 Bill Butterworth had a thriving marriage and family ministry. With his gift of humor and wise insight, his books were not only entertaining, they were informative and encouraging.
So, when his own family fell apart, he felt like it was over, and he had nothing.
Praise God he didn't stay there in that valley! Bill is back, and his writing is better than ever!
In "Mountain In My Rear View Mirror," Bill chronicles life's struggles and disappointments, trials and tribulations, and its peaks and valleys. Using anecdotes from his own life, he creates "mile markers" for those who are ascending a mountain of a struggle, or descending from a trial that we've grown from.
Packed with Scripture, this little book is a treasure trove of help for anyone going through personal struggle. And it doesn't matter how big or how small the issue is we're battling: Bill's book is for everyone.
Not only does Bill write about how we can make it through our trials according to Scripture, he makes it worth it. By painting such vivid pictures of success and triumph, he is the consummate encourager.
I'm so glad to see him writing again, and with such hope and authentic voice. This is Bill Butterworth at his best, and I'm pleased to highly recommend "Mountain In My Rear View Mirror" to my readers.
I'm giving this book six out of five bookmarks, with (you guessed it!) a rear view mirror...but no fuzzy dice! I draw the line at that, people:-)
Happy Reading!
Deena