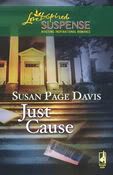 Have you ever been unjustly accused of something, yet unable to defend yourself? Then you'll easily identify with Laurel Hatcher, the heroine in Susan Page Davis' suspense novel, "Just Cause".
On trial for the murder of her husband, Laurel hopes and prays for a miracle. She receives one...sort of. Ending in a mistrial, Laurel is released on promise to appear at a new trial.
She moves on to make a new life and instead finds her old one has followed. A break in with her car leads her to Officer Dan Ryan, and new friendships are formed. Good thing, because Laurel is going to need all the friends she can get!
Another break in, this time at her apartment, has Dan delving into Laurel's past, uncovering her trial and lack of conviction. Believing in her innocence, Dan enlists his family and friends on Laurel's behalf, working feverishly before the new trial begins to put together a defense that will be unbeatable.
This is a gorgeous story of how the body of Christ can instantly be a support, a healing, and a foundation for a lost and lonely believer. When Laurel comes to town, she's alone and facing an insurmountable task--proving her innocence.
By the time the novel is through, an entire network of brothers and sisters in Christ surround her, and hold her up through everything...to the very end. How does it end? Now, that would be telling!
Instead, I'll give "Just Cause" four out of five bookmarks, and include a tube of acrylic paint as a charm. Pick up a copy of this Love Inspired Suspense novel and enjoy an afternoon of great reading!
Happy Reading!
Deena