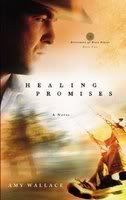 I fell in love with Amy after reading her first book, "Ransomed Dreams". But that was nothing compared to the heart, beauty and soul I found in "Healing Promises". She now joins my list of "Got To Have It" authors, such a Terri Blackstock, Brandilyn Collins, and Mindy Starnes Clark, among others.
Clint Rollins is an FBI agent with the Crimes Against Children Unit, and he's on the hunt for a serial kidnapper of young, brown haired, blue eyed boys. In the process of rescuing one, he gets shot and ends up in the hospital.
Turns out, that gunshot saved his life by revealing his battle with cancer. But his wife, oncologist Dr. Sara Rollins, is eaten with guilt. Why didn't she notice his symptoms sooner? Will Clint be a success, or another patient she cannot save? And where is God in all of this mess?
With Clint frustrated and angry about his diagnosis, weakness, and inability to help solve the case, he holds it all in, hiding from those who could support his family through love and prayer (sound familiar)?
Will Clint beat the cancer? Will Sara ever regain her confidence and her faith? And can the CACU find this child predator before he kidnaps, or kills, again? Will this be the case that breaks up the CACU?
With back story from the previous novel intertwined with this new story, Amy has created a set of characters that grab you by the heart strings and refuse to let go. They demand your love, prayer, and support as you watch them battle and fight to hold on to their faith against all odds.
Most fiction tends to be escape; Amy's is real, gritty, and filled with genuine hope. The spiritual message has great depth, and her passion for God is evident on every page. I'm so pleased to recommend "Defenders of Hope" as an entire series to my readers!
I'm giving "Healing Promises" six out of five bookmarks, with a tiny box of chocolate as a charm (read it, and find out why!). And her message of hope in the face of unimaginable circumstances was so timely for me at this point in my walk with God (more like a crawl, but hey, I'm still moving!).
I hope to host a giveaway of this amazing suspenseful and spirit-filled novel soon, so keep watch!
Happy Reading!
Deena