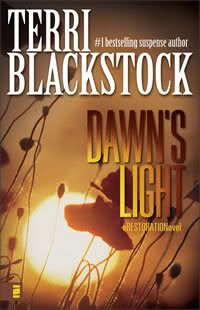 Terri Blackstock's phenomenal "Restoration" series has come to an end with "Dawn's Light", and what a journey this has been! With this series Terri has not only shown herself to be an intense and creative author, but a Christian with a huge heart filled with concern for today's church.
The world wide electrical blackout is finally nearing the end. With the promise of power and transportation on the horizon, things are finally looking up for the Branning family and their community.
Right?
Um, not exactly. As the banks begin to open for disbursements, young Beth Branning witnesses a double murder that has her in fear for her life. Told to keep quiet or face losing her family, Beth struggles with what she knows and what she longs to tell someone...anyone. What will keeping such a secret cost young Beth?
While big sister Deni is concerned for her youngest sibling, her personal life has never looked more promising. Until her former fiance moves to Crockett, Alabama and throws her romantic future into a tailspin. Will Deni choose Craig, new believer and hero to her family...or Mark, steady and steadfast, and deeply in love with her?
Now, Terri has topped my all time favorite author list ever since I first discovered her books many, many years ago. She has NEVER disappointed me with her writing, and my mom fell in love with her books as well.
But this series is more than just entertainment...it's even more than a message within fiction. The "Restoration" series is a huge wake up call to Christians everywhere.
Are we so techologically advanced that we've stopped growing in our relationships with God? Have we forgotten the One who sustains us and turned away from a deeper walk with Him? What will happen when one day all of our wealth, technology, and convenience is stripped away?
Will we seek His face, or turn out backs to His call? This is one of the most powerful series' I've ever read. It isn't preachy, but it'll preach. You can see Terri's heart on every page, and it is a heart filled with love and concern for the modern church.
A few months ago we had a major winter storm hit Northern California, and many of us were without power for several days. We're a small church in the foothills, and we had services that day with a generator running the heat (just enough to take the edge off), no overhead projector, no music at all (our piano is electric)...and yet it was such an intimate and worship-filled service.
Had it not been so cold, I think I would have loved to do it again and again (but I'm a girl who likes my warmth:-). It made me think of this series, and wonder how our church would do...would we thrive or survive, should something like this happen?
I encourage you to start reading this series today...and to pray for the modern church to go back to her First Love, forget all the bells and whistles of worship, and get back to the heart.
"Dawn's Light" releases from Zondervan in May 2008. The other books in this series are, in order:, "Last Light", "Night Light", and "True Light".
Happy Reading!
Deena