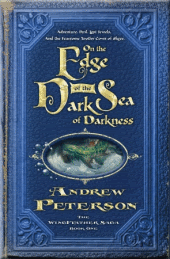 My son, known as Book Kid, has written his own viewpoint, from a 14 year old perspective...
I think this is a good book! It's like Chronicles of Narnia and Lord of the Rings, but in a different and better way. With new creatures, new characters, and people that have their own kinds of problems, I recommend this book for anyone who enjoys reading fantasy.
One of my favorite scenes was when the Igibys attacked Slarb the first time. I also like it when Peet the Sockman beat the snot out of Slarb. Another favorite thing about this book are that all the characters are very interesting. My favorite character was Janner, because he was always cool headed and whenever he did lose his cool, he tried to regain it as fast as he could.
Highly recommended for fantasy fiction fans.
See you in the funny pages!
Book Kid
To read more about this book, visit these bloggers:
To read more about this book, visit these bloggers:
Sally Apokedak
Brandon Barr
Jim Black
Justin Boyer
Jackie Castle
Valerie Comer
CSFF Blog Tour
Gene Curtis
D. G. D. Davidson
Janey DeMeo
Jeff Draper
April Erwin
Beth Goddard
Marcus Goodyear
Todd Green
Jill Hart
Katie Hart
Michael Heald
Timothy Hicks
Christopher Hopper
Jason Joyner
Kait
Carol Keen
Mike Lynch
Margaret
Rachel Marks
Shannon McNear
Rebecca LuElla Miller
Pamela Morrisson
John W. Otte
Deena Peterson
Rachelle
Steve Rice
Cheryl Russel
Ashley Rutherford
Chawna Schroeder
James Somers
Donna Swanson
Steve Trower
Speculative Faith
Robert Treskillard
Jason Waguespac
Laura Williams
Timothy Wise
To buy a copy, click
here
.
Happy Reading!
Deena