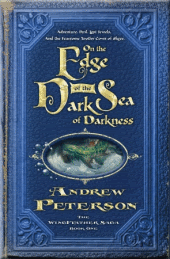 Top Ten Reasons Why I LOVED "On The Edge Of The Dark Sea of Darkness"
(In no particular order)
1. Word play--one of my favorite things! Just re-read the title...look at who the villains are: Fangs of Dang...too cool!
2. Andrew's use of footnotes to reference works that aren't real, which lends authenticity to his fantasy novel! Too Cool Times Two!
3. Read aloud quality. The rhythm of the writing was soothing and lyrical, which was nice when my son insisted I read out loud to him for an entire chapter.
4. Short chapters (see #3).
5. Character development. Each Igiby child was so unique, and I loved them for individual characteristics.
6. Peet the Sock Man...'nuff said!
7. It's a series...which I LOVE!
8. Cover design and sketches were so inviting, and Narnia-ish.
9. This is a book the entire family can read and enjoy, and would make a good family read aloud book.
10. My son and I both read it (even though he out-read me By. One. Page.) click here for details.
To see what my friends on this tour are saying, stop by and visit:
Sally Apokedak
Brandon Barr
Jim Black
Justin Boyer
Jackie Castle
Valerie Comer
CSFF Blog Tour
Gene Curtis
D. G. D. Davidson
Janey DeMeo
Jeff Draper
April Erwin
Beth Goddard
Marcus Goodyear
Todd Green
Jill Hart
Katie Hart
Michael Heald
Timothy Hicks
Christopher Hopper
Jason Joyner
Kait
Carol Keen
Mike Lynch
Margaret
Rachel Marks
Shannon McNear
Rebecca LuElla Miller
Pamela Morrisson
John W. Otte
Deena Peterson
Rachelle
Steve Rice
Cheryl Russel
Ashley Rutherford
Chawna Schroeder
James Somers
Donna Swanson
Steve Trower
Speculative Faith
Robert Treskillard
Jason Waguespac
Laura Williams
Timothy Wise
To buy a copy, click
here
.
Come back tomorrow and Wednesday for two viewpoints of the same book...one from a 14 year old, and one from a not so 14 year old:-)
Happy Reading!
Deena