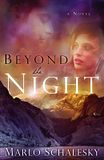 If I had to describe the newest novel by author Marlo Schalesky in just one word....
GORGEOUS.
Completely different from her other work, "Beyond the Night" is contemporary romantic suspense, and is a magnificent story of love, hope, and believing.
Paul and Maddie have been best friends since 1973. While he was into medical research, Maddie was on track to be a doctor. Hanging out together was just a part of their routine; what Maddie called NADs (Not A Date).
So when Maddie's life began to change due to a medical diagnosis, the question quickly becomes who will leave whom? Can Maddie remain who she is and where she is, or will her mother win and take her back to Boston?
Can Paul be there for Maddie, in ways he has never had to be there? Will the memory of past love be enough to extinguish any feelings he has for Maddie before they can even spark? And does he have enough faith to hope for a good outcome, even when Maddie loses hope for herself?
The irony is we already know the answers as we begin the story. This novel is written in a series of flashbacks. But the story is so tightly crafted, it seems as though the outcome is more uncertain than it is.
This is by far the most intriguing and unusual romance I've ever had the pleasure of reading. I remember Marlo writing in a blog post that this was going to be different and have a twist...talk about truth in advertising!
Marlo has really stretched herself creatively in "Beyond the Night", and she has done so brilliantly. Paul and Maddie are filled with life and energy, and their emotional responses to situations are genuine and realistic. The story moves at the smoothest pace and I devoured it in one afternoon.
In fact, my eyes are blurry from my late night reading! It was either finish it or cheat and skip to the last chapter, the drama and mystery was that intense (and it's been a long time since I was tempted to do THAT!).
But when I say mystery, I'm not using the word in the conventional writing sense. This story is really in a class all its own. My only concern is that Marlo is done with this genre, and that would be a tragedy, as she has most definitely mastered it well!
I'm giving "Beyond the Night" six out of five bookmarks, with a tiny, gorgeous bottle of perfume (read the story and I think you'll know why!) as a charm. "Beyond the Night" releases from Multnomah in May 2008. Do NOT miss this one!
Happy Reading!
Deena