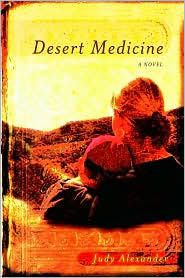 "Desert Medicine" is the debut novel by Judy Alexander, a novel that tells the story of two women, as different as can be, yet similar in more ways than they realize.
Laurelle is a soon to be divorced mother of five-year-old twins who struggles to keep her head above water. Wanting to be a good mom and to provide to her son and daughter, she works herself ragged with two jobs and finds the pain of her failed marriage too much to bear.
To help ease her own pain, she agrees to visit Rhoda, a dying, homebound member of her church. While Laurelle endures these periodic visits, she hears stories of Rhoda's past, and in the listening, she learns a little something about her own life.
Through listening to Rhoda, Laurelle ultimately learns how to love with her whole heart, and how to really feel and know Jesus at work in her life. Laurelle makes some unwise choices in the process, and it takes a near tragedy in her own life to really capture her attention.
In the end, she ends up on the pathway to healing and wholeness.
I enjoyed this story, although bouncing between Rhoda's story and Laurelle's gave me a bit of a headache. Rhoda is a master storyteller, though, and she captures and holds your attention just as she begins to hold Laurelle's as well.
"Desert Medicine" is a little like it's namesake (the desert)...gritty and a bit rough in patches. Some mild language and Laurelle's bad decisions immediately after her divorce can make for some uncomforable reading.
Still, we have people in the Body of Christ who haven't always chosen wisely, and they need our love and encouragement as they strive to follow Jesus more closely. Just know that Laurelle's salvation is most definitely worked out in the trenches of living, as was Rhoda's.
"Desert Medicine" is a wonderful debut, and I look forward to more of Judy's writing. I'm giving it four out of five bookmarks, with an avocado as a charm...read the story and see for yourself why I've made this odd choice! "Desert Medicine" is published by Kregel Publications, and is available now.
Happy Reading!
Deena