About The Author: Tricia Goyer has published over 300 articles for national publications such as Today's Christian Woman, Guideposts for Kids, and Focus on the Family, and is the co-author of Meal Time Moments (Focus on the Family). She has led numerous Bible Studies, and her study notes appear in the Women of Faith Study Bible (Zondervan).
She has written seven novels for Moody Publishing: From Dust and Ashes (2003), Night Song (2004), Dawn of a Thousand Nights (2005), Arms of Deliverance (2006), A Valley of Betrayal (2007), A Shadow of Treason (Fall 2007), and A Whisper of Freedom (Spring 2008).
Tricia is also the author of Life Interrupted: The Scoop on Being a Young Mom (Zondervan, 2004), 10 Minutes to Showtime (Thomas Nelson, 2004), Generation NeXt Parenting (Multnomah, 2006), Generation NeXt Marriage (Multnomah, 2008), and 3:16—the teen version of a book by Max Lucado (Thomas Nelson, March 2008).
Life Interrupted was a 2005 Gold Medallion finalist in the Youth Category. Night Song was awarded the American Christian Fiction Writer's 2005 Book of the Year award for Best Long Historical Romance. Dawn of a Thousand Nights won the same award in 2006. In 2003, Tricia was named as the Mount Hermon Christian Writers Conference "Writer of the Year".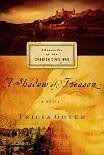 About The Book: Sophie discovers that nothing is as she first imagined. When Walt, the reporter who helped her over the border, shows up again after Guernica is bombed, Sophie is given an impossible mission. She must leave behind the man she's fallen in love with and return to the person who betrayed her. Another layer of the war in Spain is revealed as Sophie is drawn into the international espionage schemes that could turn the tide of the war and help protect the soldiers from the International Brigade ... she must find a way to get a critical piece of information to Walt in time.
Now, I'm not a huge fan of historical fiction, but I AM a huge fan of Tricia's! She has such great spiritual insight and is a voice for this generation of Christian women.
So, if you love Christian historical fiction, you are definitely going to love this second installment in this series!
In fact, I'm SO sure, I'm giving away TWO copies to my readers.

Leave me a comment, and I'll pick a winner on December 14th!!
Happy Reading!
Deena