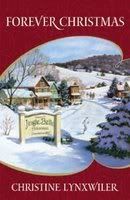 Have you ever wished it could be Christmas all the time? Well, you just might want to move to Jingle Bells, Arkansas and live with Kristianna Harrington! Then again, maybe not...
Kristianna is fresh out of two broken engagements and is done with love. She's also quite done with law school, much to her parents' dismay. Instead, Kris has inherited her grandmother's beloved gift shop, "Forever Christmas" and is quite happy with her new lot in life.
With her business proving to be as successful as her love life (see above paragraph), Kristianna knows only a financial miracle can rescue her beloved shop and town from financial ruin. So, when Summer Valley Outdoors makes an offer they can't refuse on a huge warehouse, what more could the town want?
Um...to keep their town name, maybe? With market research to back up their stand on changing the town name to Summer Valley, the mega corporation won't buy until their terms are met. But Kristianna won't let her beloved town be changed...and mounts a campaign of David vs. Goliath proportions.
Her best friend is focused on her upcoming wedding, the new guy in town she THOUGHT was a romantic possibility turns out to be a Judas, and Garrett, her childhood buddy just can't be bothered. Can Kris save "Jingle Bells" single handedly? Or will the one last familiar landmark in her life also change forever?
I absolutely adored this novel! Christine has a fun and light-hearted writing style that has you chuckling one moments and teary eyed the next. The characters are lifelike and worm their way into your hearts from page one. This was one of those stories where I wanted a "Where Are They Now" follow up:-)
I give "Forever Christmas" five out of five bookmarks, with a beach blanket as a charm...but don't think Kris loses just because it's a beach blanket...'cause my blanket has snowmen all over it!! If you want to know what happens...say it with me...
"You'll just have to read the book yourself!"
Happy Reading!
Deena