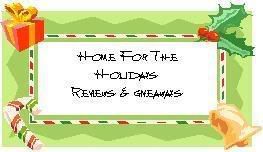 Here we are, on day five of the Twenty Five Reviews of Christmas...I'm enjoying all of my holiday reading!! Just a brief note of business: giveaways are on Fridays...and I promise they are good ones!
Now, on to our book for today: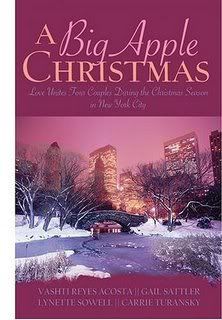 I'm a sucker for a good holiday romance, and I found four of them in this anthology, "A Big Apple Christmas". Each story takes place in New York City, but each stands alone.
First we have "Moonlight and Mistletoe", where professional organizer Sarah Montgomery voluteers her services to her elderly neighbor, and meets the poet grandson. Has Justin written his way into Sarah's heart, or will his creative nature be a turn off to her? I loved this sweet story, and wish I could hire Sarah!
Second, my favorite of the quartet, is "Shopping For Love". Emily Jones ends up in New York City after a bad relationship and an even worse employment experience nudges her to take a huge risk. In the Big Apple with no plans, she literally falls for Bryan Evans, and the two tour New York together. Will a vacation turn into a lifetime event, or will Emily and Bryan be forced to go their separate ways in the New Year?
This one had me wanting to go on a moonlight cruise with my hubby, and to drive through town and watch the Christmas lights, snuggled in his arms. Emily and Bryan were so real they came to life and took me on a fantastic tour of a city I one day hope to visit, but they did such a wonderful job introducing me to the sites and sounds!
Third up is "Where the Love Light Gleams", a sweet story about second chances at love. Gwynn Michaud's huge spruce tree makes its way to Rockerfeller Plaza just in time for Christmas...and so does Gwynn, courtesy of her children! She stays with her daughter's old college roommate and her widowed father...and well, you can guess the rest, can't you??
Finally, I enjoyed "Gifts From The Magi" and met up with Cecilia Montes and watched her reunite with childhood friend Elias Perez. Elias is the new youth minister, and Cecilia is filled with regret over how she once treated her childhood friend. Can forgiveness bring the two of them together, or will the past drive a wedge between them?
This was the most delightful anthology, and it's going on my "favorite Christmas reading" shelf for sure!
It's value priced, but don't let that fool you...this is top quality Christmas fiction, and I'm giving "A Big Apple Christmas" five out of five bookmarks, with a snow covered apple as a charm. Put this one on your Christmas wish list:-)
Happy Reading!
Deena