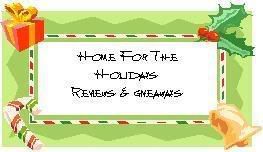 Well here we are. I don't know how many of you stuck with me through all twenty-five reviews of Christmas...but I thank you. And if you're reading this on Christmas day, I'm surprised and flattered that you've included me in your family celebration:-)
But, since you're here...let's wrap up the Home for the Holidays Christmas Book Review Festivities, shall we? I opened with one of my all time favorite Christmas books, and I will close with my absolutely, hands down favorite of all...

The story can be found in Luke, chapter two...and is non-fiction all the way. A true story that changes lives, and is infinitely precious to me and to my family. In fact, I'm sure the Author won't mind if I share it with you:
Luke 2
The Birth of Jesus
1In those days Caesar Augustus issued a decree that a census should be taken of the entire Roman world. 2(This was the first census that took place while Quirinius was governor of Syria.) 3And everyone went to his own town to register.
4So Joseph also went up from the town of Nazareth in Galilee to Judea, to Bethlehem the town of David, because he belonged to the house and line of David. 5He went there to register with Mary, who was pledged to be married to him and was expecting a child. 6While they were there, the time came for the baby to be born, 7and she gave birth to her firstborn, a son. She wrapped him in cloths and placed him in a manger, because there was no room for them in the inn.

The Shepherds and the Angels
8And there were shepherds living out in the fields nearby, keeping watch over their flocks at night. 9An angel of the Lord appeared to them, and the glory of the Lord shone around them, and they were terrified. 10But the angel said to them, "Do not be afraid. I bring you good news of great joy that will be for all the people. 11Today in the town of David a Savior has been born to you; he is Christ[a] the Lord. 12This will be a sign to you: You will find a baby wrapped in cloths and lying in a manger."
13Suddenly a great company of the heavenly host appeared with the angel, praising God and saying,
14"Glory to God in the highest,
and on earth peace to men on whom his favor rests."

15When the angels had left them and gone into heaven, the shepherds said to one another, "Let's go to Bethlehem and see this thing that has happened, which the Lord has told us about."

16So they hurried off and found Mary and Joseph, and the baby, who was lying in the manger. 17When they had seen him, they spread the word concerning what had been told them about this child, 18and all who heard it were amazed at what the shepherds said to them. 19But Mary treasured up all these things and pondered them in her heart. 20The shepherds returned, glorifying and praising God for all the things they had heard and seen, which were just as they had been told.
The story has a part two, if you will, and I'm sure the Author wouldn't mind me sharing this with you as well:
Luke 23

23But with loud shouts they insistently demanded that he be crucified, and their shouts prevailed. 24So Pilate decided to grant their demand. 25He released the man who had been thrown into prison for insurrection and murder, the one they asked for, and surrendered Jesus to their will.

The Crucifixion
26As they led him away, they seized Simon from Cyrene, who was on his way in from the country, and put the cross on him and made him carry it behind Jesus. 27A large number of people followed him, including women who mourned and wailed for him. 28Jesus turned and said to them, "Daughters of Jerusalem, do not weep for me; weep for yourselves and for your children. 29For the time will come when you will say, 'Blessed are the barren women, the wombs that never bore and the breasts that never nursed!' 30Then
" 'they will say to the mountains, "Fall on us!"
and to the hills, "Cover us!" '[d] 31For if men do these things when the tree is green, what will happen when it is dry?"
32Two other men, both criminals, were also led out with him to be executed. 33When they came to the place called the Skull, there they crucified him, along with the criminals—one on his right, the other on his left. 34Jesus said, "Father, forgive them, for they do not know what they are doing."[e] And they divided up his clothes by casting lots.

35The people stood watching, and the rulers even sneered at him. They said, "He saved others; let him save himself if he is the Christ of God, the Chosen One."

36The soldiers also came up and mocked him. They offered him wine vinegar 37and said, "If you are the king of the Jews, save yourself."

38There was a written notice above him, which read:|sc THIS IS THE KING OF THE JEWS.

39One of the criminals who hung there hurled insults at him: "Aren't you the Christ? Save yourself and us!"

40But the other criminal rebuked him. "Don't you fear God," he said, "since you are under the same sentence? 41We are punished justly, for we are getting what our deeds deserve. But this man has done nothing wrong."

42Then he said, "Jesus, remember me when you come into your kingdom.[f]"

43Jesus answered him, "I tell you the truth, today you will be with me in paradise."

Jesus' Death
44It was now about the sixth hour, and darkness came over the whole land until the ninth hour, 45for the sun stopped shining. And the curtain of the temple was torn in two. 46Jesus called out with a loud voice, "Father, into your hands I commit my spirit." When he had said this, he breathed his last.
47The centurion, seeing what had happened, praised God and said, "Surely this was a righteous man." 48When all the people who had gathered to witness this sight saw what took place, they beat their breasts and went away. 49But all those who knew him, including the women who had followed him from Galilee, stood at a distance, watching these things.
And, praise God, there is a final portion of this amazing true story, and I insist on sharing it with you...for it is the BEST. PART. OF. THIS. LIFE. CHANGING. STORY:
Luke 24
The Resurrection
1On the first day of the week, very early in the morning, the women took the spices they had prepared and went to the tomb. 2They found the stone rolled away from the tomb, 3but when they entered, they did not find the body of the Lord Jesus. 4While they were wondering about this, suddenly two men in clothes that gleamed like lightning stood beside them. 5In their fright the women bowed down with their faces to the ground, but the men said to them, "Why do you look for the living among the dead? 6He is not here; he has risen! Remember how he told you, while he was still with you in Galilee: 7'The Son of Man must be delivered into the hands of sinful men, be crucified and on the third day be raised again.' " 8Then they remembered his words.
9When they came back from the tomb, they told all these things to the Eleven and to all the others. 10It was Mary Magdalene, Joanna, Mary the mother of James, and the others with them who told this to the apostles. 11But they did not believe the women, because their words seemed to them like nonsense. 12Peter, however, got up and ran to the tomb. Bending over, he saw the strips of linen lying by themselves, and he went away, wondering to himself what had happened.

On the Road to Emmaus
13Now that same day two of them were going to a village called Emmaus, about seven miles[a] from Jerusalem. 14They were talking with each other about everything that had happened. 15As they talked and discussed these things with each other, Jesus himself came up and walked along with them; 16but they were kept from recognizing him.
17He asked them, "What are you discussing together as you walk along?"

They stood still, their faces downcast. 18One of them, named Cleopas, asked him, "Are you only a visitor to Jerusalem and do not know the things that have happened there in these days?"

19"What things?" he asked.

"About Jesus of Nazareth," they replied. "He was a prophet, powerful in word and deed before God and all the people. 20The chief priests and our rulers handed him over to be sentenced to death, and they crucified him; 21but we had hoped that he was the one who was going to redeem Israel. And what is more, it is the third day since all this took place. 22In addition, some of our women amazed us. They went to the tomb early this morning 23but didn't find his body. They came and told us that they had seen a vision of angels, who said he was alive. 24Then some of our companions went to the tomb and found it just as the women had said, but him they did not see."

25He said to them, "How foolish you are, and how slow of heart to believe all that the prophets have spoken! 26Did not the Christ[b] have to suffer these things and then enter his glory?" 27And beginning with Moses and all the Prophets, he explained to them what was said in all the Scriptures concerning himself.

28As they approached the village to which they were going, Jesus acted as if he were going farther. 29But they urged him strongly, "Stay with us, for it is nearly evening; the day is almost over." So he went in to stay with them.

30When he was at the table with them, he took bread, gave thanks, broke it and began to give it to them. 31Then their eyes were opened and they recognized him, and he disappeared from their sight. 32They asked each other, "Were not our hearts burning within us while he talked with us on the road and opened the Scriptures to us?"

33They got up and returned at once to Jerusalem. There they found the Eleven and those with them, assembled together 34and saying, "It is true! The Lord has risen and has appeared to Simon." 35Then the two told what had happened on the way, and how Jesus was recognized by them when he broke the bread.
And that, my friends and readers, is the best, the most important, and the truest story of Christmas you'll ever read. It doesn't end with the baby in the manger, but with the Savior of the world risen and alive today.
If you've never believed this true story, let me offer you this....
THIS is my final giveaway for Home for the Holidays...The gift of the truth. If you do not know this Jesus the Bible tells us about, if you've never believed in Him and in His sacrifice for you, email me.
I will send you a Bible and a study book on Jesus Himself, and let you get to know Him. Once you do, you will have a choice to believe...or not. I pray that you do. This is so much more than just about books for me. It's about pointing the way to Jesus, the One who took me as I am, and loves me too much to leave me or let me be.
Let me introduce you to Him this Christmas. Email me. Let's talk. Let me pray with you and for you. I won't debate you. But I will introduce you to the One who came to save the world from sin...and you're gonna LOVE Him!
So, Merry Christmas everyone...and this is a giveaway meant for the entire world...take it, with much love from me...and from God Himself:-)
Happy Reading!
Deena