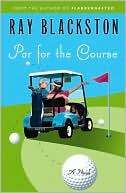 Ray Blackston is back and his trademark tongue-in-cheek humor hits a whole in one! With wit and style and lots of golfing terms, Ray's future new release is one that both men and women can read and enjoy.
"Par For The Course" is the tale of Chris Hackett, owner and operator of Hack's Golf Learning Center. Always on the lookout for ways to build the business that he loves, Chris takes Molly up on her suggestion to spark interest in the golf business by inviting opposing political parties to "Take a Whack at each other".
His business partner and friend, Cack, drives a motorized and customized golf cart in a random pattern, teasing and taunting from both the left and the right, with free buckets of golf balls up for grabs by the ones who can whack Cack.
But things turn ugly when Chris begins getting anonymous threats in notes, and he falls for Molly with no possibility of a future...right? Or not? Will Chris slice right, or bogey on his one and only shot with Molly (never did catch her last name)?
I see hazards ahead, and they are full of puns and humor, as well as a message of focusing on what is truly important, and on doing what we are called to do with all we have.
I loved Ray's debut novel, "Flabbergasted" and have been a fan for some time, but this novel I do believe tops them all. While he may not have made me a range hound, he is definitely on the right trajectory with this one...right to the top of the list!
I give "Par For The Course" four out of five bookmarks with a orange striped golf ball for the troops...read it and you'll understand...and I'm still wondering what Molly's last name is!
Par For The Course hits shelves February 2008...for purchase information, click on the cover!
Happy Reading!
Deena