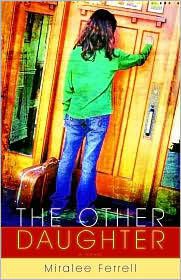 What would you do if, one day, out of the blue...a child appeared on your doorstep and claimed your spouse was her mom or dad?
That's the question posed in Miralee Ferrell's debut novel, "The Other Daughter."
While waiting for her husband to arrive home for her birthday celebration, Susanne Carson hears a vehicle leaving in a hurry, and then the doorbell rings. When she opens it, her life and the lives of all she loves changes in an instant:
The little girl standing at the door took a deep breath, pulling her suitcase a little closer to her trembling legs, "My mama's dead. He's my daddy."
The lie from David Carson's past has caught up with him. A one night stand resulting in Brianna Carsen Warren threatens to unravel his testimony and his marriage. Even more important, it could be the driving factor that keeps Susanne from ever trusting in God.
The story is compelling and fast paced. Susanne's reactions are genuine and realistic, as are the reactions of her two other children, Meagan and Josh. Poor David is caught between the family he loves and the daughter he doesn't know.
This is a wonderful debut from an author who shows tremendous talent as a contemporary storyteller. I already sniffed out the possibility of a sequel...but only time will tell...unless Miralee will??
I'm giving "The Other Daughter" three out of five bookmarks, with a little suitcase charm. This story is compelling, but not one that will stick with me like so many others I've read. But it is most definitely worth reading!
To win a copy of this debut novel, leave me a comment...I'm drawing a winner on November 14th!!
Happy Reading!
Deena