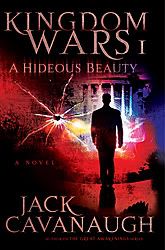 I love books that stretch my imagination...expand my horizons...blow my mind.
And this one did all three!
"Kingdom Wars: A Hideous Beauty" is the first in a new series by Jack Cavanaugh. Think Robert Ludlum meets Frank Peretti! Highly suspenseful and intensely supernatural, this series looks to be a wild and fascinating ride.
Grant Austin has written his prize winning book--a biography of the sitting President--and it has won him a Pulitzer. That, and a boatload of trouble.
When Grant visits his old high school to deliver a speech, he can't help but go by his old classmate's office to gloat. Let this be a lesson to all of us...let high school grudges go, or you're liable to get more than you bargained for!
Turns out his classmate Myles isn't who he's always seemed to be. Instead of someone Grant can show up, he's someone who continually shows Grant up. And with good reason, because he...awwwwww--you almost got me to tell!
No fair...you have to read it yourself. And prepare to be amazed.
From that point on, it's up to Grant to expose the plot he's uncovered to assasinate the President of the United States. After all, he's written the man's biography. So naturally he should be the one to save him, right?
Right?
Your guess is as good as mine...oh, wait, no it's not! Because I'VE read the book! And now you need to get your hands on this exciting supernatural thriller! And I was up late into the night uncovering what simply blew my mind, made me think, and still has me reeling.
This is powerful writing!
"A Hideous Beauty" receives five out of five bookmarks from me, with a press pass as a charm...although it won't do you any good. You'll still have to read the book to know what happens. But that isn't a bad thing...no, it's good!
Happy Reading!
Deena