Remember how I said this novel should have come with a warning label? Well, you'll have to wait until the end of the review to know what I meant by that! But it'll be worth the wait, so hang in there with me!
Harriet Bisset is a former pastor's daughter, director of women's ministry at First Grace Church, waitress and potential owner of Gloria's Morning Cafe...and a prodigal now back in the fold.
After working hard to redeem the years of her life the locusts of sin consumed, Harriet is determined to continue to walk the straight and narrow...even if it kills her or at the very least bores her to death.
Living in the senior mobile home park with many of the older members of her church family, Harriet is content with her lot in life. After all, considering what she'd put her family through during her rebellious years...did she deserve any better than what she had?
Enter Maddox McCray, church consultant and the man determined to push Harriet out of her nest of protection. As he guides First Grace into the modern age of worship and ministry, Maddox attempts to reveal to Grace that she too needs to move forward and not look back at things past and forgiven.
Will Harriet let go of her inner rebel and abstain from reruns of "The Coroner" for the sake of coming back to life? Or is she too afraid she'll once again run from the One who loves her to the siren call of the world?
And just who is Maddox McCray and why does he keep saying "poor timing" whenever he's in the vicinity of Harriet? Seems like the timing couldn't be better...but what do I know? And then, there's Stephano....
I absolutely love Harriet. My oldest daughter is walking in the way of Harriet the Rebel...and I can only pray one day she'll walk in the way of the new Harriet Bisset. This Harriet, while overly cautious, is fun in her own madcap way...like Harriet's Log, a countdown to events she anticipates and those she dreads...done in true Harriet fashion.
Now, why does this story need a warning label? Well, for one---you can't put it down! No, you just fall in love with Harriet and company and have to turn just one. more. page. to see what Harriet will get herself into next.
But the biggie...and the one I plan on taking Tamara to task over...IT'S HARRIET'S OBSESSION WITH JELLY BELLY BEANS! I found myself scrounging through my kitchen cabinets, desperate for my own Jelly Belly fix.
I munch my way through three of the smaller bags while reading this delightful and sweet story of God's pure and unconditional forgiveness...good thing I had stocked up earlier without knowing why!
I'm giving "Splitting Harriet" six out of five bookmarks, with a tiny sample bag of Jelly Belly beans...only hold maybe one or two beans at most. I'm telling you, it was pure torture reading about Harriet's Jelly Belly obsession and nary a bean in sight!
But I won't do that to you, my dear reading buddy. No siree! I have TWO copies of "Splitting Harriet" to give away...and each comes with it's own snack sized bag of mixed flavors...FOR REAL! I WILL, however, leave you wondering about the significance of the Jelly Belly in Harriet's life.
So, leave me a comment telling me your favorite Jelly Belly flavor...and I'll pick a winner on Black Friday, the Day After Thanksgiving!!!
Not only that, but here's a sneak peek at the cover of Tamara's new book, due out next year...titled "Faking Grace"...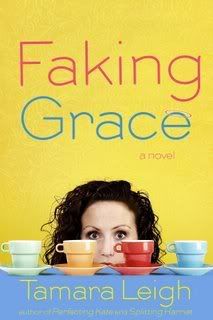 To read more about Grace and my interview with Tamara, click
here
.
Don't forget to enter my Sweet "Splitting Harriet" Giveaway!!