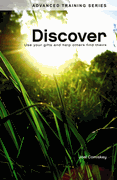 With the new year rapidly approaching, many believers begin searching for a Bible study to start out on track in God's Word. With that in mind, I'm pleased to introduce you to two Bible study series' that I love.
First, we have the "Advanced Training Series" by Joel Comiskey and the study guide "Discover: Use your gifts and help others find theirs". I love this book for two reasons: the subject matter and the layout of the study.
Scripture teaches that every believer has a spiritual gift, with some possibly having more than one. But many go through life trying to be something they were never intended to be, or not knowing what to do. This study can alleviate both situations and help believers maximize their work for the Lord in powerful and meaningful ways.
This book has eight lessons packed with Scripture (always a good thing in a Bible study, but surprisingly lacking in many today), personal anecdotes which are wonderful for application, and places for you to write down your own personal reflections on what you've read.
The questions are sprinkled throughout the reading, which I love. It's ideal for people like me who think while they read, and who love to highlight and mark up a good study book. The questions vary from "Trying It" to ways to "Do It" or the need to "Memorize It" or "Apply It". This study encourages you to immediately put feet to what you learn.
Topics covered in this study include "The Gift Giver", an examination of the Holy Spirit and Scripture relating to the gifts and how they are given; "The Purpose of Spiritual Gifts", covering the why aspect of gifting; "What the Gifts Are--and What they Are Not", which I think was my favorite section; and How to Discover Your Spiritual Gifts".
Unlike many studies on spiritual gifts, there is no "take this quiz" element to the study. The reader is given total freedom to rely on God's Word and the Holy Spirit's guidance to uncover the gift(s) that he or she has been given.
I give "Discover" five out of five bookmarks. This is by far one of the most inductive Bible studies I've come across, and I look forward to reading the companion study titled "Coach". Now, I've got to get this book to my husband/pastor so he can put it to good use in our small group ministry!
Happy Reading!
Deena