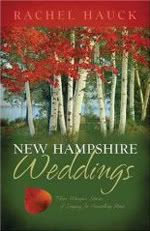 I used to read romance novels by the shelf-full. I devoured the new releases every month, and spent a ton of money on false love and fake dreams. Eventually, the "ick" factor got to be too much, so I moved away from those stories.
But, every once in awhile, my heart craves a genuine romance novel. So, I'm so glad I picked up a copy of "New Hampshire Weddings" by Rachel Hauck.
Originally published as individual novels, this trilogy follows the lives of one extended family in New Hampshire. Each story can stand alone, and each is rich in God's love and the lessons He has for us in His word.
Elizabeth is bent on grad school, and rejects Kavan's offer of love. What will she ultimately choose?
Julie and Ethan long for a child of their own...why won't God open her womb, and what will they do if He doesn't?
Taylor and Will parted ways 10 years ago...can love bridge the distance, and with either of them ever find peace?
Each is a genuine, gooey romantic tale, minus any "ick" factor...and coated with God's love. This is love, romance and marriage much closer to the way God intended it to be...still a little fairy-tale attached...but it doesn't hurt a girl to dream, does it?
After all, 22 years ago...I found my Prince Charming...:-)
"New Hampshire Weddings" gets 3 bookmarks and a wedding cake charm from me.
Happy Reading!
Deena