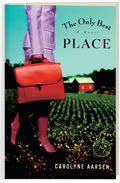 I picked up this novel after reading a recommendation from one of my favorite authors, Neta Jackson: "Okay, I'm hooked!"
So am I.
"The Only Best Place" is the story of Leslie VandeKeere, a farmer's wife. A farmer's wife who does not want to BE a farmer's wife, and who thought she was only going to be a farmer's wife temporarily.
Carolyne writes the story with honesty and clarity...it is the story of anyone who has ever heard themselves say "Yes" when deep down they were crying out "No!"
Leslie's husband loses his business, and his mother's second husband abandones her. So it is the perfect time for their family to return to his roots and help his family. Packing up and leaving behind urban life, Leslie struggles with life on the farm and mom Wilma in control.
The age old struggle of interfering relatives vs. new home and wife and kids is tackled in Carolyne's novel. This family has deep roots in the community and with one another, a fact that too often leaves Leslie feeling like an outsider.
Added to the mix is her abandonment by her own mother, an absent father, and a wild child sister. Leslie just doesn't know how to relate to a family so close and intertwined with one another's lives, as is evident when a niece ends up in her emergency room and when she is accused of some hanky-panky with the resident doctor.
This is a story about family. It is a story about letting go. It is a story about looking beyond what people do to see who they are at heart. About boundaries that are healthy, about the importance of priorities and what matters to those we love.
I agree with Neta Jackson...I am hooked...the good news is a second novel is releasing soon...about the wild child sister. I hope we haven't seen the last of the VandeKeere clan...or this author's work...
Happy Reading!
Deena